New Deer Harvest Reporting Requirement
A law passed in the 2015-2016 season that required EVERY purchaser of a deer tag(s) to report their harvest, even if they were unsuccessful, or if they did not hunt.
For successful hunters, the report must be made within 30 days of harvesting a deer or by January 31, whichever date is first. Unsuccessful hunters (or those who did not hunt) must report no harvest or did not hunt, respectively, by January 31.
Harvest reports can be submitted ONLINE(opens in new tab), or by mail to the address printed on the tag. Watch this video for more information on how to report your deer tag (YouTube)(opens in new tab).
Recognized nationwide as one of the country's premier white-tailed deer hunting states, Wisconsin has both an abundant herd and a proven reputation for producing some of the largest bucks in the world. With over seven million acres of land open for public hunting across a diverse range of habitats, you can pursue the experience that suits you. From walking all day on a fresh track in the great Northwoods, to sitting the fertile river bottoms and agricultural lands in the south.
Whether you are new to hunting or preparing for your fiftieth season, Wisconsin has what you need for great hunting and a lifetime of memories in the deer woods.
WHAT YOU NEED TO KNOW FOR THIS SEASON
RULES, REGULATIONS AND SEASON DATES
Regulations: View the 2022 Hunting Regulations.
Dates And Hours: View season dates and shooting hours.
Baiting And Feeding: Check the baiting and feeding regulations page often to find out if your county allows baiting and feeding of deer.
Carcass Movement: Review carcass movement regulations to learn how and where deer can be moved.
HARVEST OPPORTUNITIES
ANTLERLESS HARVEST AUTHORIZATIONS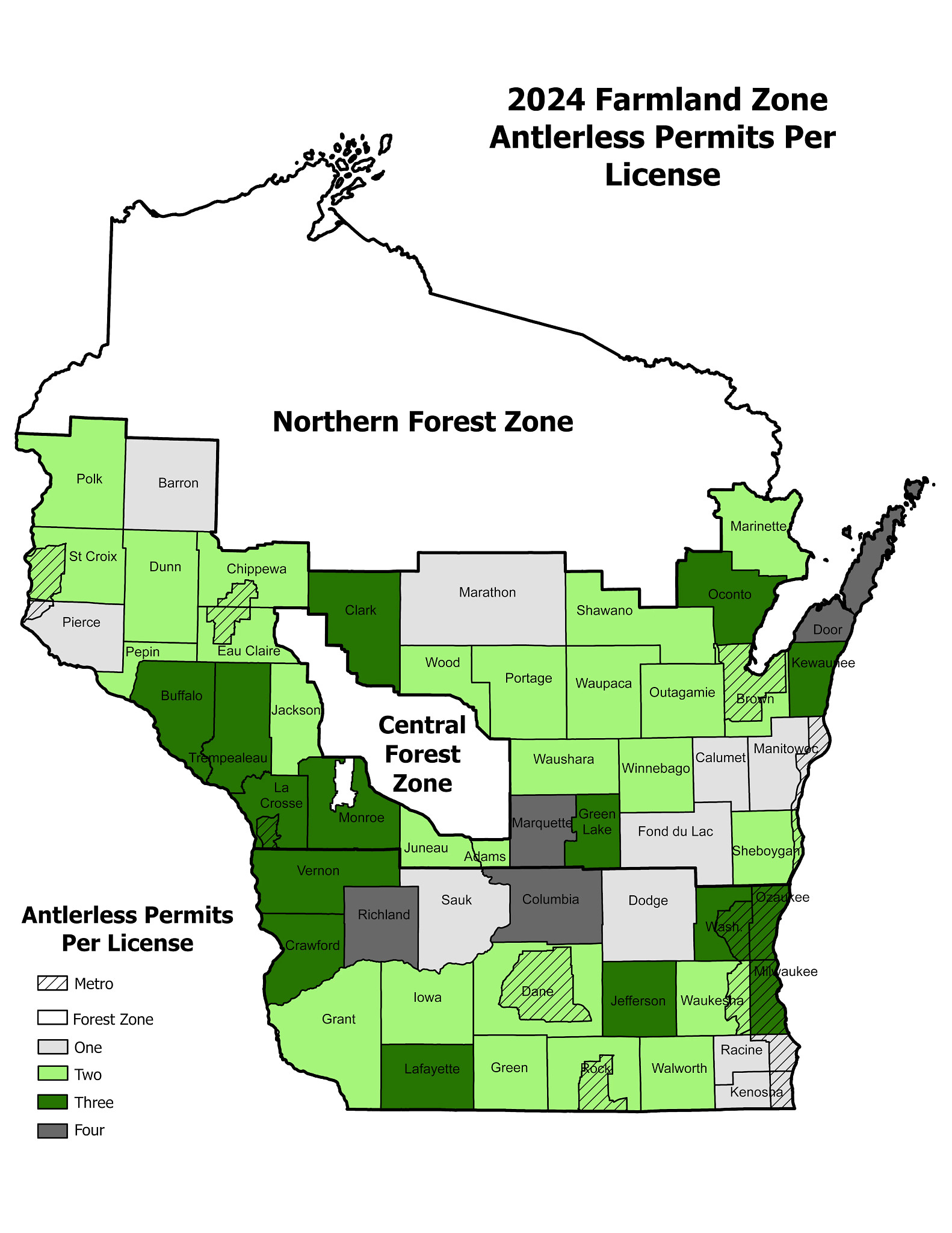 One to four additional Farmland (Zone 2) antlerless harvest authorizations [PDF] will be included in 2022 with each deer hunting license, depending on the unit of choice.
In Farmland Zones, additional (bonus) harvest authorizations for antlerless deer will be available for purchase starting Aug. 15.
These bonus antlerless harvest authorizations may be filled with any weapon type during the appropriate season. They must be filled in the zone, unit and land type (public or private) designated on each harvest authorization. Bonus antlerless harvest authorizations are available on a first-come, first-served basis at a cost of $12 each for residents, $20 each for non-residents and $5 for youth hunters under age 12.
Unsure which Deer Management Unit (DMU) to select? Head over to the Public Access Lands mapping application. Click "Show Layer List", then turn on "DNR Hunting Zones" and select "Deer Zones". You can then zoom in on your area to determine which DMU you fall within.
HUNTING IN METRO SUB-UNITS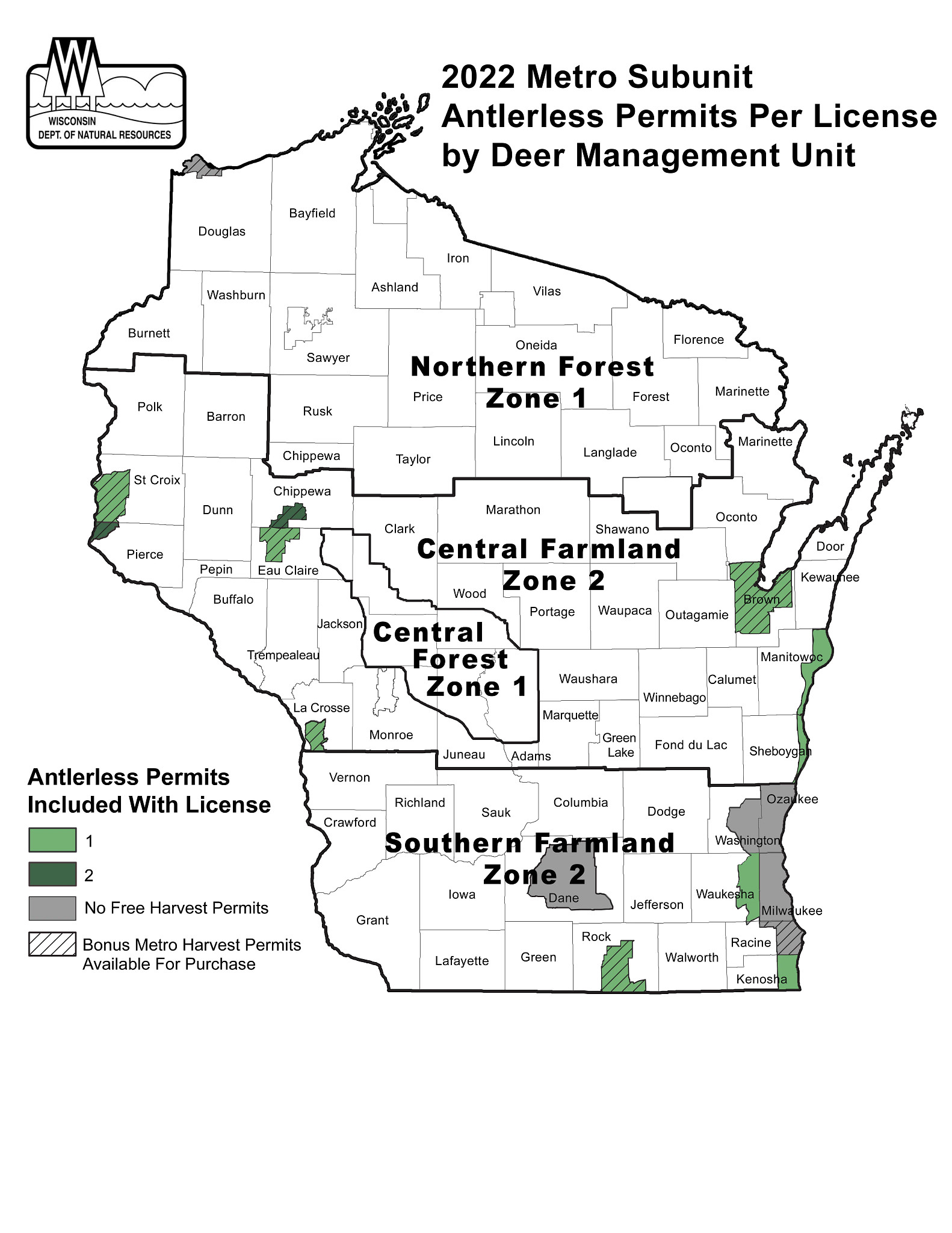 For full details, including county lists and maps of metro sub-units, see the 2022 Metro Sub-unit Guide [PDF].
Hunters may use any of their Farmland (Zone 2) antlerless deer harvest authorizations included with their license or purchased bonus antlerless deer harvest authorizations to hunt in a metro sub-unit by selecting the deer management unit (DMU) where the sub-unit is located. The harvest authorization is valid within the entire DMU, including any metro sub-units.
Hunters may also request a metro sub-unit antlerless deer harvest authorization at no cost or purchase a bonus metro sub-unit antlerless deer harvest authorization. These options are available only in certain counties. 
SPECIAL HUNTS AND LEARNING OPPORTUNITIES
The DNR and partner organizations provide a variety of ways to enjoy the deer hunting season:
PREPARE FOR THE HUNT
Get ahead of the game by preparing before this year's hunting season:
AFTER THE HARVEST
What's next after you harvest your deer:
Register your deer through Game Reg. Registration is required and must be completed by 5 p.m. the day after the deer carcass is recovered.
Get your deer tested for chronic wasting disease. CWD testing is not required, but it is recommended. It's also free and easy to do.
Process your deer and enjoy your venison. The Wisconsin Department of Health Services and the Centers for Disease Control recommend that you do not eat venison from deer that have tested positive for CWD.
Safely dispose of deer carcass waste. There are several options available to safely and legally dispose of deer carcass waste to help slow the spread of CWD.
Commemorate your first harvest. If you or a friend or family member celebrated their first deer harvest this year, request a personalized First Deer Certificate!
CHRONIC WASTING DISEASE
Chronic wasting disease (CWD) is a degenerative disease of the brain and nervous tissue that infects white-tailed deer and other cervids. The Wisconsin Department of Natural Resources began monitoring the state's wild white-tailed deer for CWD in 1999. The first positives were found in 2002 through testing of hunter-harvested deer in November 2001. While testing a harvested deer is not required, hunters are encouraged to learn about CWD in Wisconsin and stay up to date on mandatory baiting and feeding restrictions.
Visit our page on CWD to learn more about how to have your deer tested and about what you can do to help slow the spread.
HARVEST STATISTICS
The DNR provides a variety of resources to follow harvest statistics over time:
For more on deer population trends and statistics, visit the deer management page.
DEER MANAGEMENT IN WISCONSIN
The DNR divides the state into four Deer Management Zones (DMZs) based on habitat type: Northern Forest, Central Forest, Central Farmland and Southern Farmland. Within each DMZ, the department manages deer by Deer Management Units (DMUs), which generally follow county boundaries.
County Deer Advisory Councils (CDACs) provide input each spring on the upcoming season structure and antlerless harvest quotas for each DMU. 
Visit the pages on deer management and CDACs for more information.